Stunning high street dresses for your bridesmaids that are all less than £100!
If you're having a big expensive wedding then don't stop reading yet - we have selected some exquisite styles that you can buy on Wedding Heart that are suitable for weddings big and small.
Buying bridesmaids dresses can be rather costly, especially if you're planning to have lots of bridesmaids. There are thousands of bridesmaids dresses available online and there is a huge range of jaw-dropping dresses here on Wedding Heart - but where do you start? Right here is the place!
You may be concerned about the price of good looking, well-made bridesmaid dresses if you have set a tight budget or do not want to let the total wedding costs spiral too high then worry no more - the high street shops online have the answer!
Here you will find a selection of stunning high street bridesmaid dresses that suit a range of body shapes, theme colours and wedding styles. 
Dresses for Under £100
Monsoon
A beautiful mink colour dress from Monsoon which has gorgeous lilac/pink/purple tones. With its grecian inspired draping this Rose Embellished Maxi dress helps create an elegant feminie silouette. Thhis dress has just the right balance of detail with shimmer on the shoulders. Priced at a wonderful £99, this Monsoon bridesmaid dress now only needs the bridesmaid shoes and earrings to complete the look!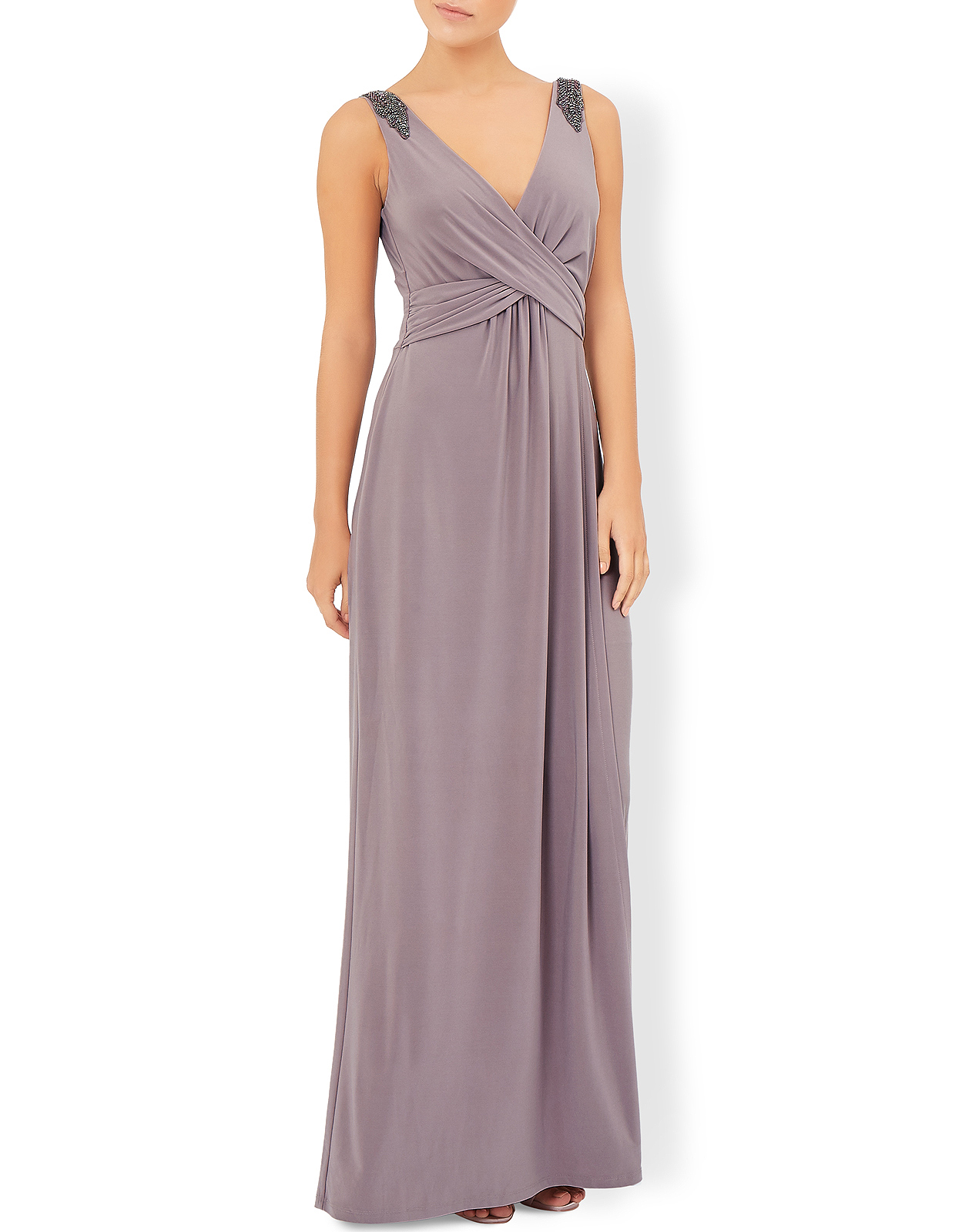 Image: Monsoon
If the above dress wasn't stunning enough, your bridesmaids will love this green dress with a minty colour - the Garland Maxi Dress just oozes elegance and fits in so well with a variety of wedding styles! If you're planning to theme your wedding on the season then picture this - For spring use pale yellow and white flowers and accessories. For summer wear this dress with blush pinks or lavendar purple colours. For Autumn use dark green flowers with deep orange and gold. Lastly mix this dress with white, crystal and silver for give a truely cool winter look. We love it, it's just so versatile! Again priced at only £99 this high street dress is a must!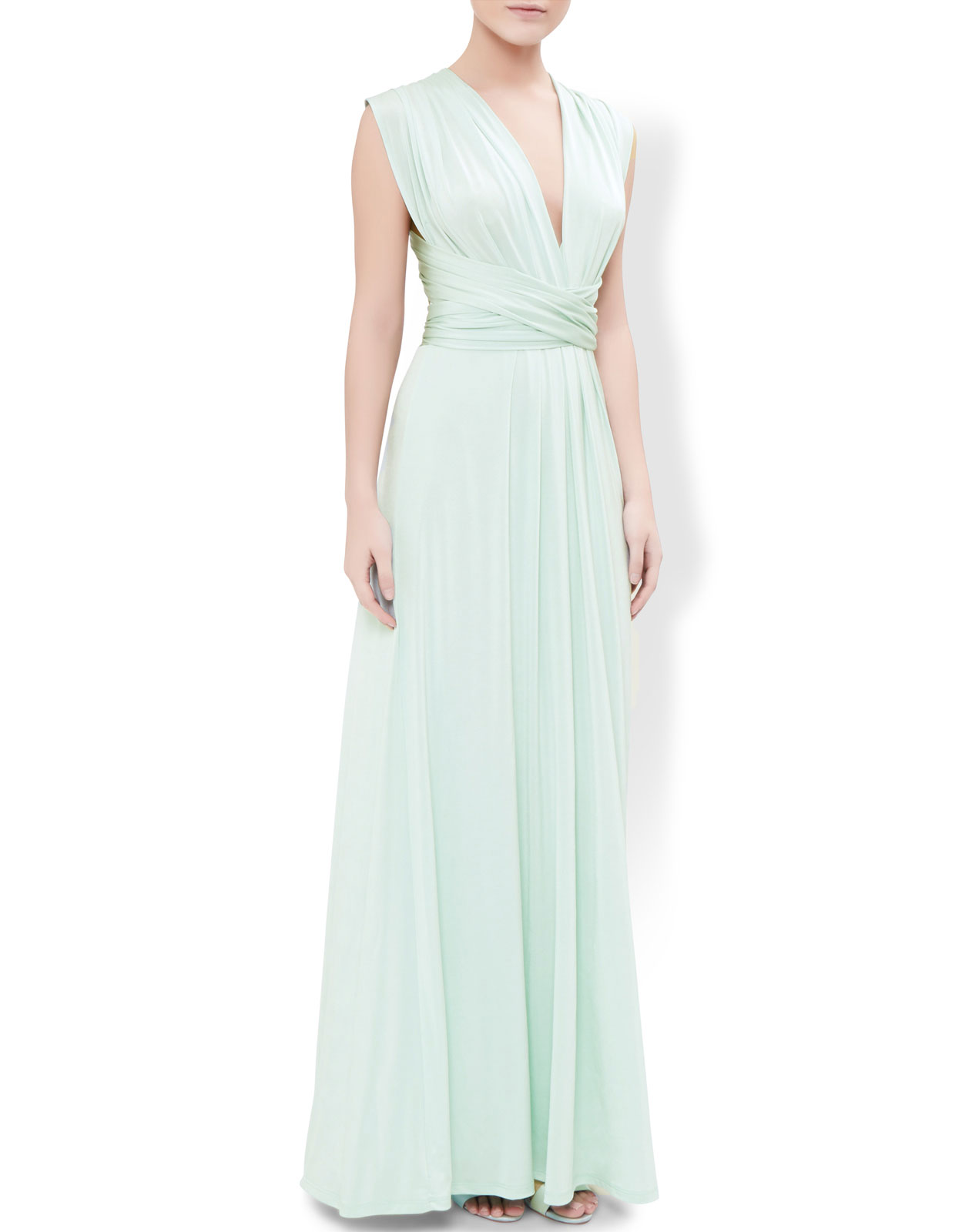 Image: Monsoon
House of Fraser
Next up is this striking red bridesmaid dress by Jessica Wright available from House of Fraser. There's only one word for this dress - WOW! It will certainly not show that the lady in red wearing this high street bridesmaid dress that it only costs £85. We live that it has a very sleek style with covered shoulders that aren't bulky or boring. This dress can be worn at any time of the year but is certainly suited to the cooler months. And the practical part - it can be washed at 30 degrees C!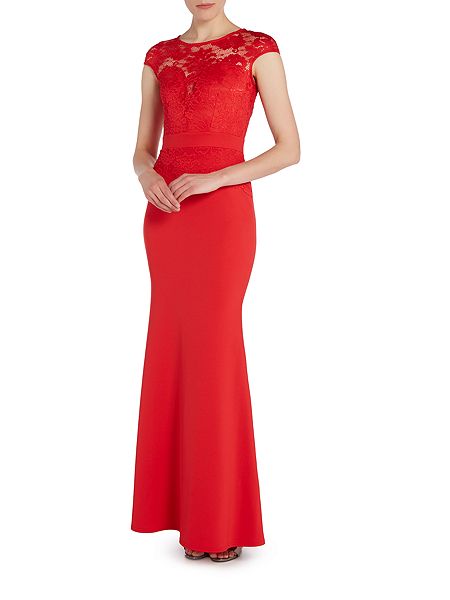 Image: House of Fraser
Marks and Spencer
Ever thought of following in the footsteps of one of the Kates (Kate Middleton and Kate Moss) by having your bridesmaids also wear white of the big day - well how about this? Here is a surprisingly beautiful ivory bridesmaid dress from high street giant Marks and Spencer. At only £89 this dress is full of flare and features a detachable bow belt. It is also available in many different colours which is perfect if you want to mix it up a bit!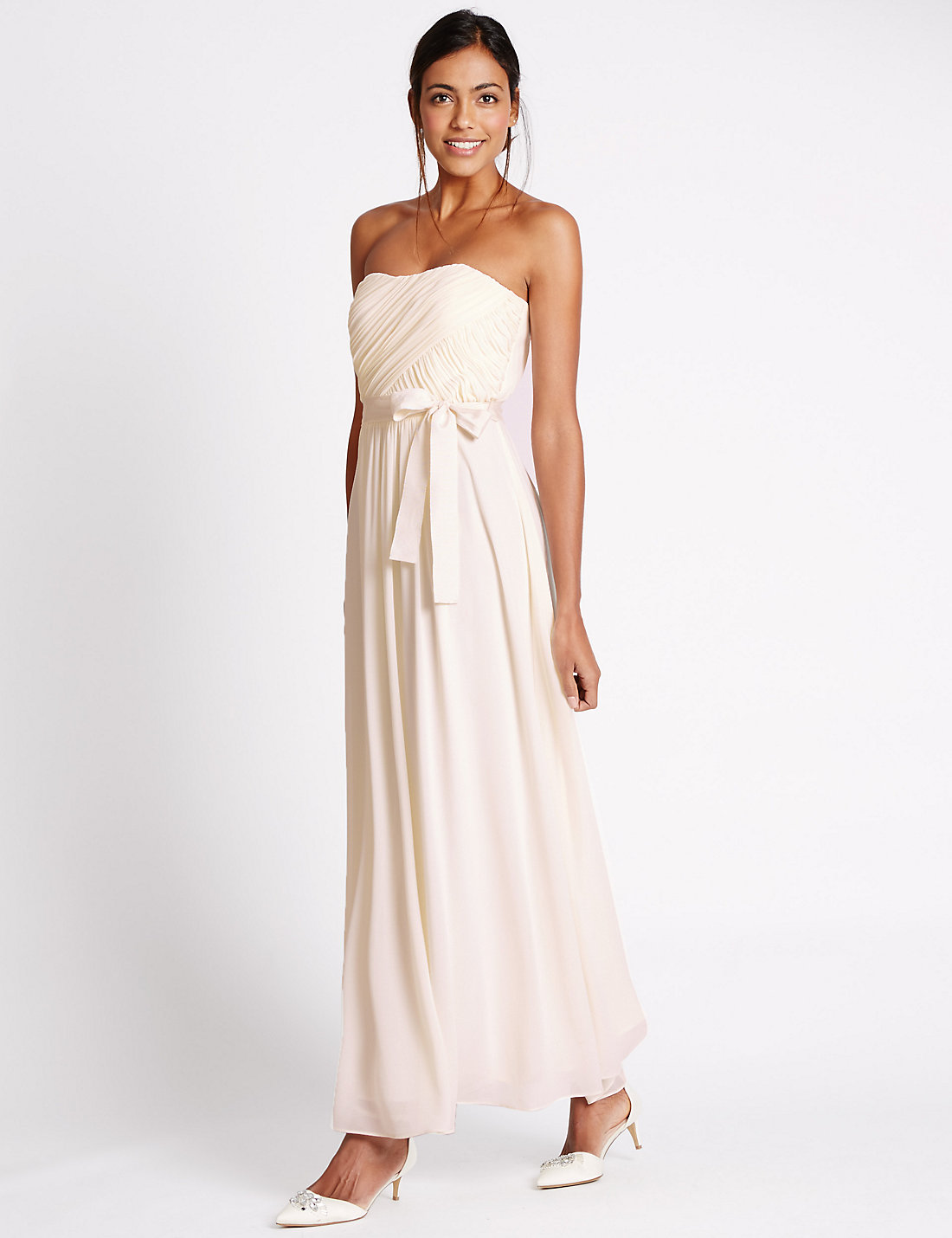 Image: Marks and Spencer
This cotton blend skater dress is also another high street wonder from M&S. This dainty knee-length bridesmaid dress is shown here in deep navy but is also available in other colours. It features an elegant round neck and beautiful lace shoulders. We love that this dress also looks smart, is usually a suitable colour for all bridesmaids and can be worn to other special occasions after the big day. Oh yes and it's only £79!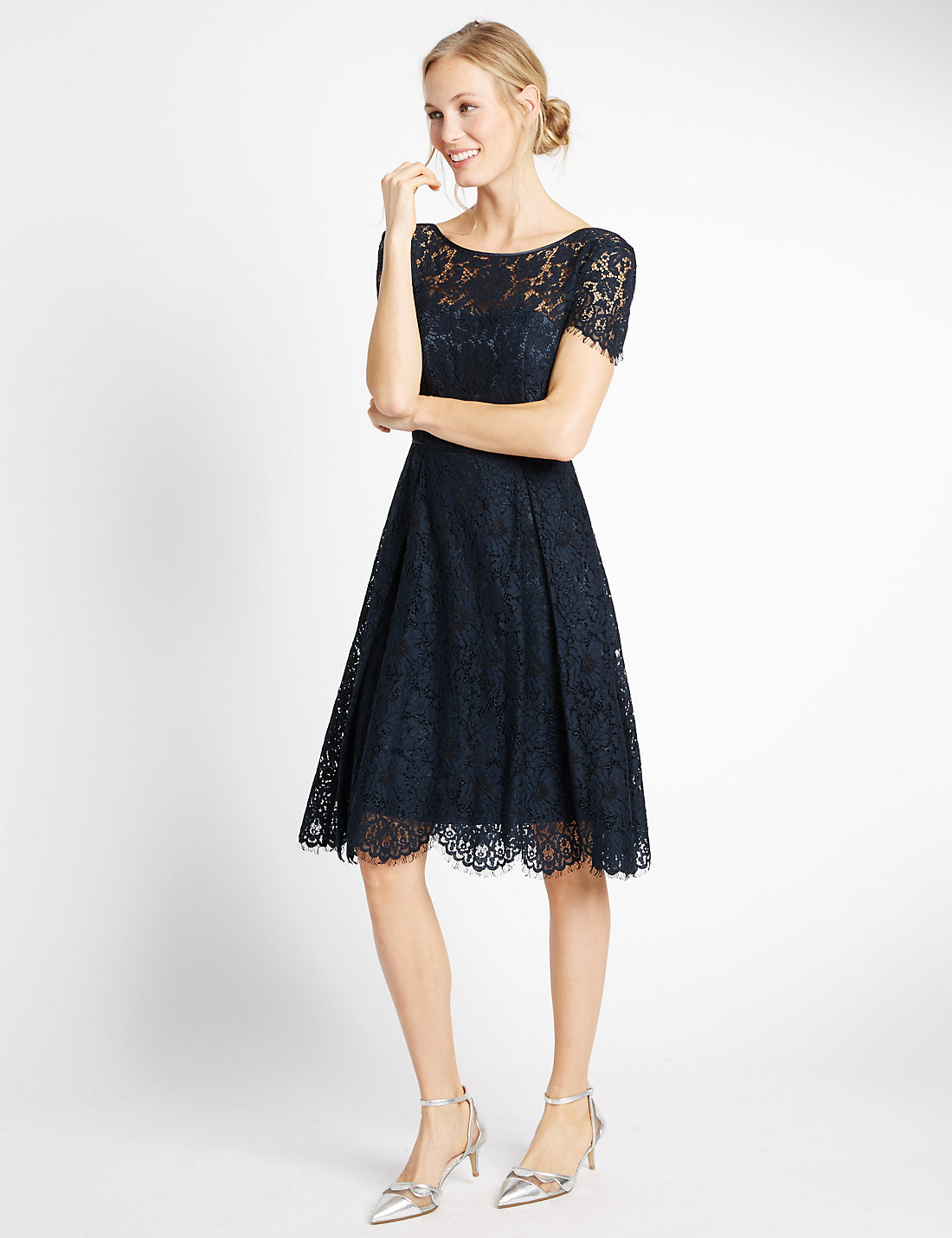 Image: Marks and Spencer
Jane Norman
You may be surprised to hear but Jane Norman also has a bridesmaid dress range. Some of these start as little as £55 but the more fuller and desireable dresses retail at about £75-80, so very similarly priced to those other high street shops mentioned above. We have chosen the Mid Blue One Shoulder Flower Maxi Dress at £70 to show you as it just caught our eye when browsing the website. We love these beautiful one-shoulder flower strap designs, it's just so pretty. The pleats on this dress also give it a very smart and grown up look. It is available is pale pink and dusty purple too.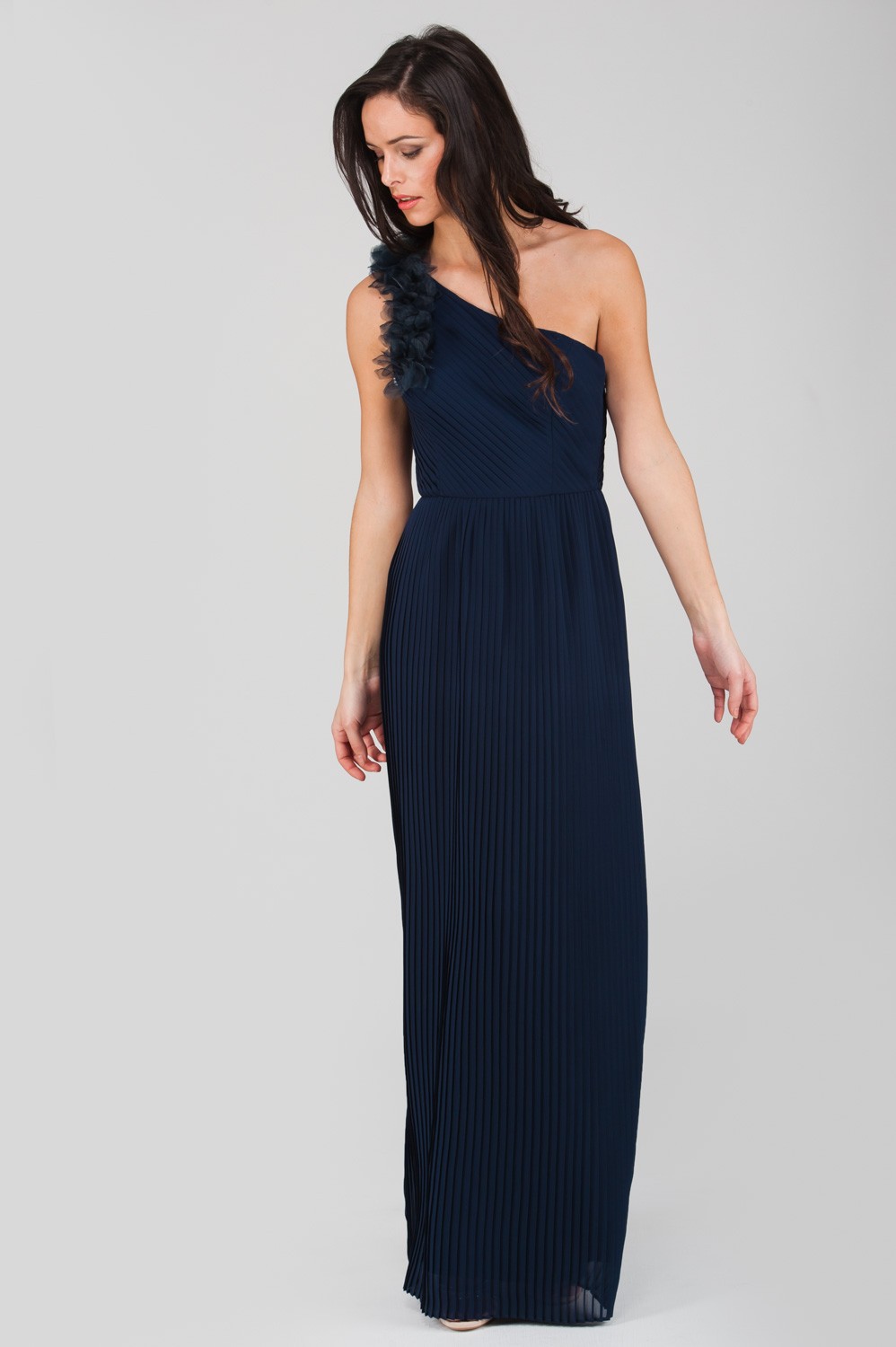 Image: Jane Norman
House of Fraser
Getting slightly cheaper, this nude coloured bridesmaid dress is by Little Mistress from House of Fraser. At £65 this sleeveless ciffon gown is another gorgeous cheap high street bridesmaid dress that is full of dreamy flare and would be an absolute delight to wear. It's has a romantic bust line and lace top but also a sweet twist belt at the front just to set it off right.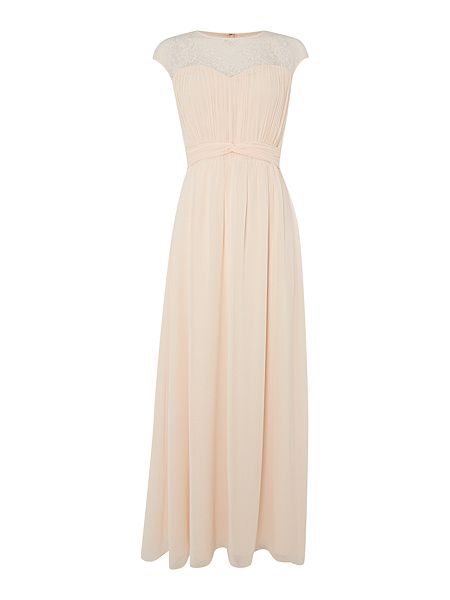 Image: House of Fraser
Check out our full range of high street bridesmaid dress shops on Wedding Heart. You can also find cheap bridesmaid dresses and online shops such as Lindy Bop and Very.
Read more bridesmaid dress articles on Wedding Heart.