Have Your Wedding Dress Custom Made
Having a bespoke bridal gown made is another great way of making your wedding day all that more unique. Here you will find advice if ordering your dress online and also suggestions of top wedding dressmakers. Also check out our other article 'The Complete Guide On Where To Buy A Wedding Dress' for more dress ideas.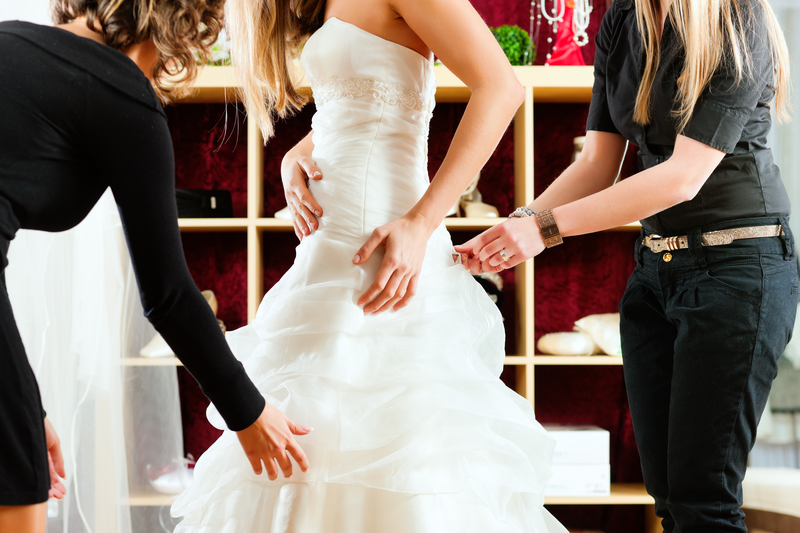 Jump To:
'I Want To Buy A Wedding Dress Based On An Existing Design'
For brides who want a visable design starting point when creating the perfect dress, you may wish to select an existing dress style that you love and have various aspects of it changed to make it your own. This option is also good if you want to see roughly what the finished design will look like rather than just relying on a sketch. Maybe you're thinking 'wow I love that dress, but I wish it was in blue' or 'I want a cheap custom made dress' - well here we can help!
Many dressmakers that create a design from scratch are able to show you their previous creations (see below). Alternatively Etsy and Not On The High Street.com have thousands of made to order wedding dresses that can be personalised where you just pick the design and then select the colour and size you would like it in. Some sellers allow further enhancements but you'll have to check the details carefully and contact the seller in advance to discuss whether your ideas can be included. Also be sure to read the reviews left by other brides about the seller. You should only go for this option if you're 100% happy to buy online, that you won't meet the dressmaker, that the dress may be made in another country (you can choose a dress from within the UK and Ireland) and that you'll be resonsible for giving accurate body measurements. On the positive side, if you do manage to spot an amazing dress design and the seller can incorporate the teaks you wish to make, you could end up with an amazing dress at a very reasonable price.
'I Want To Have My Wedding Dress Made From Scratch'
There are many reasons for wanting to have your wedding dress made, including:
Bring an own-designed dream dress to life.
Recreate a dress worn by a family member, celebrity or featured in a film.
Design a dress to fit in with your wedding theme.
Make a dress that completely suits your body shape.
Have a dress that no other bride has.
If possible try to find a dressmaker local to you that specialises in making wedding dresses. It gives added assurance if you're able to meet with the dressmaker in person so that they can take your body measurements accurately but also so that you get to understand each other's ideas as clearly as possible. It is important that you choose a wedding dressmaker and not simply a clothing adjustments seamstress or normal dress maker for the following reasons:
An expert wedding dressmaker:
Is experienced in creating wedding dressess and so your dress will not be their first project.
Will have reviews from other brides for you to consider.
Can provide advice about which style dress would suit your body shape.
Is familiar with and can obtain suitable fabrics for each type dress design.
Is up to date with wedding dress fashions.
If you are not able to find a bridal dressmaker close to where you live but are willing to travel, then read on.
CAROLINE ARTHUR - London & Surrey
Caroline Arthur Couture specialises in making wedding dresses from scratch. Brides to be use a 'mix and match' system on the website to select from their set of designs a bodice, a skirt, straps if you're having them and then accessories such as flowers or a lace overlay. It's very quick to do and once you have made your choices the initial enquiry is sent to Caroline Arthur. Herself or a team member will then reply with an initial quote and discuss further preferences regarding the dress, such as materials and colours. There are approximately three meetings for body measurements and wedding dress fittings. More information can be found at www.CarolineArthur.com
JUDY MOTT - Kent
Judy Mott has been designing wedding dresses for over 25 years and caters for brides of all ages. Appointments can be booked to discuss ideas, costs, see samples and have measurements taken. These stunning bespoke dresses are handmade and created to give the perfect fit. Ex-sample dresses are also available at a discount on the usual price. Custom made mother of the bride outfits are available too which is sure to please mum if she can't find something she likes. Judy Mott's studio is at Tunbridge, Wells (1hour drive from Brighton and 1 hour 15 mins drive from central London). Further details can be found at www.JudyMott.com
HOUSE OF MOOSHKI - County Durham
House of Mooshki has some gorgeous ready-designed collections that are supplied to various stockists but also creates brides own designs. House of Mooshki is able to design anything from traditional to modern and 1920s, 1930s, 1940s, 1950s, 1960s vintage dresses to gothic gowns. There is a contact form on the website where you can specify your dress requirements and a member of the team will get back to you. House of Mooshki caters to brides in the UK, Europe, US and Australia by offering Skype conference calls and detailed phonecalls to discuss all of the dress particulars. Appointments can also be made at the design studio in Seaham, County Durham (within 30 minutes drive of Durham, Newcastle Upon Tyne, Sunderland & Middlesbrough). Contact details cann be found at www.HouseOfMooshki.com
LESLEY CUTLER - Buckinghamshire
Lesley Cutler Bridal Wear was established in 1994 and offers bespoke, hand made bridal gowns. Lesley Cutler has a catalogue of career experience from large clothing fashion names to leading wedding dress designer Ronald Joyce and royal wedding designer Elizabeth Emanuel. Her acquired skills have enabled her to create made to measure bridal gowns that really stand out. Dress details are all discussed in person at Lesley's studio in Milton Keynes (within 30 minutes drive of Northampton, Bedford and within 1 hour drive of St Albans, Oxford, Cambridge). Appointment enquiries can be made at www.lesleycutlerbridalwear.co.uk
LORNA TATE - Edinburgh
Lorna is a wedding dress designer and maker. She has designed and made special occasion wear and wedding dresses for many years and holds her wedding dress appointments in her studio in central Edinburgh. Lorna also makes bridesmaids dresses and bridal corsets. She also works with lace and tartan fabrics. A large number wedding pictures showing gowns that she has made can be found on her website along with links to bride reviews at www.WeddingDressmakerScotland.co.uk
Other Wedding Dressmakers:
Click here to read more wedding dress articles on Wedding Heart