Penhaligon's - Blenheim Bouquet Men's Wedding Fragrance
from Penhaligon's - Mens Wedding Fragrances
Penhaligon's - Blenheim Bouquet Groom's Wedding Perfume

Inspired by the name of Blenheim Palace, the Blenheim Bouquet was created in 1902.

Head notes of lavender, lime and lemon. Base notes of pine, musk and black pepper.


Click here to view more men's grooming products, suits and accessories on Wedding Heart - All of the best retailers in one place.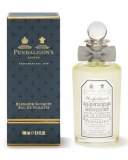 More from Penhaligon's - Mens Wedding Fragrances