Penhaligon's - Endymion Cologne
from Penhaligon's - Mens Wedding Fragrances
Penhaligon's Endymion Groom's Wedding Cologne

Spicy and fresh, it is a fragrance of contrasts, a seductive night time fragrance - perfect for the evening party.

Endymion is fusion of citrus, leather and spices. Opening with a burst of sweetened mandarin wrapped gently in sage and lavender, then settles gently into a dark coffee heart. Endymion warmed by the skin gives mysterious hints of creamy nutmeg and cardamom.

Endymion was a mortal who was so loved by the Goddess of the Moon that she put him to sleep forever so she alone could visit him every night.


Click here to view more men's grooming products, suits and accessories on Wedding Heart - All of the best retailers in one place.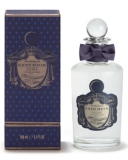 More from Penhaligon's - Mens Wedding Fragrances